UNCLE PETER
2,1:54.2; 3,1:52.3f; 4,1:50.3f ($1,290,660)
Cantab Hall – Victory Treasure – Enjoy Lavec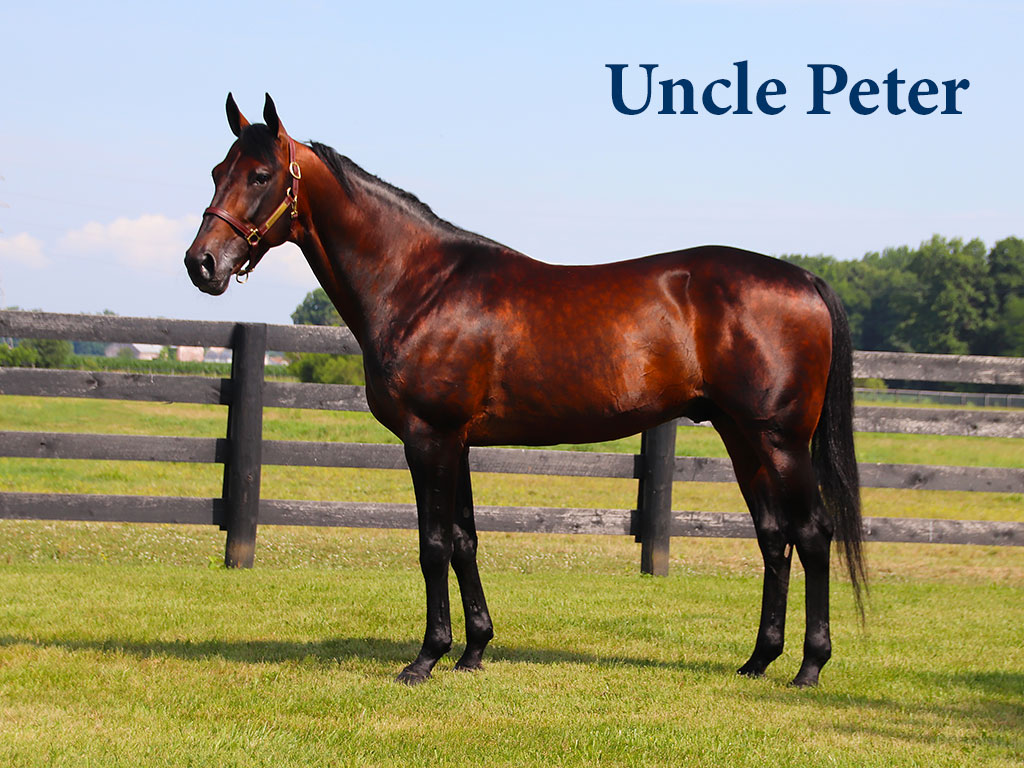 2023 Stud Fee $4,000
UNCLE PETER is the sire of THREE World Champions as well as
2021 Kentucky Filly Futurity winner KATIE'S LUCKY DAY
Uncle Peter has 46 $100,000 winners (as of 1/1/23), with 47 in 1:55 or faster with earnings over $17 million.
Top performers include: World Champion IT'S ACADEMIC 1:50.1–'22 ($1,359,312); World Champion ACTION UNCLE 3,1:52.4h; 1:52.2f–'22 ($595,175); REFINED 1:51.3f ($752,380); World Champion A REAL LEGEND 2,1:55h–'22 ($126,173); Kentucky Filly Futurity winner KATIE'S LUCKY DAY 3,1:50.4 ($544,156); SUPER SCHISSEL 3,1:52.3 ($399,492); BIG BOX HANOVER 4,1:54.2h ($487,022), etc.
Bay Horse. Foaled 2009.
World Champion. At 2, winner elim. and Final Breeders Crown at Woodbine, Reynolds Mem., Late Closer at Lexington; second in International Stallion S. At 3, winner Stanley Dancer T., leg Pennsylvania Sires S. at The Meadows, elim. Hambletonian S., Pennsylvania All-Stars; second in Final Oliver T., elim. and Final Matron S., elim. Earl Beal Jr. Mem. at Pocono. At 4, winner Centaur Trotting Classic; second in leg and Final TVG T., Maxie Lee Mem. at Philadelphia, Final Meadowlands Maturity at Meadowlands; third in Final Maple Leaf T., Final John Cashman Mem. At 5, third in elim. John Cashman Mem.
CLICK icon above for UNCLE PETER's pedigree
REPLAY – 2013 Centaur Trotting Classic at Hoosier Park
REPLAY – World Record in Preferred Handicap at Pocono Downs