The credentials of Hickory Lane's stallions are of the finest ever to be offered at stud in the state of Ohio. We feel the future of harness racing in Ohio is secure at Hickory Lane.
Everyone at Hickory Lane looks forward to serving  your breeding needs this year and beyond.

Breeding Contract – 2024 Hickory Lane
Finally, we want to take this opportunity to wish you the very best of luck in all your breeding endeavors.

Per Day Boarding Rates: Effective January 1, 2024
Barren Mares
$19.00
Mares and Foals
$22.00
Mare under lights
$20.00
Weanlings (from weaning to Dec. 31)
$12.00
Yearlings (from Jan. 1 – Oct. 31)
$19.00
Sales Prep
$27.00
Paddock Horses
$20.00

Breeding Shed Opens Feb. 12, 2024
15% discount for year-round boarders

Foaling Charge
(For mares booked to, or foaling by Hickory Lane stallions)
$300.00
Foaling Charge
$400.00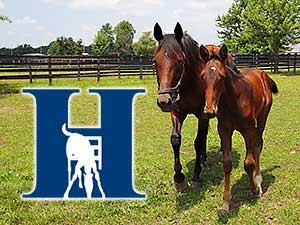 2024 Shipping Semen Procedures
If you plan to pick up semen at Hickory Lane the following procedures will apply:
Stallions are collected on Monday, Wednesday, Friday and Saturday. Saturday collections are for pick up or courier only. All orders for semen either shipped or picked up must be received by 10:30 AM on the day of collection. There is a $100.00 collection/preparation/semen container fee per pick up, plus the shipping costs for those who use overnight shipping.
If you are planning to overnight ship semen to your location, YOU MUST contact Federal Express at 1-800-463-3339 or UPS at 1-800-742-5877 and establish an account prior to requesting semen. These shipping charges will be billed directly to you by Federal Express or UPS.